Queue Associates
Microsoft Dynamics solutions designed specifically for Asian businesses that encompass VAT, Global Projects and more.
LEARN MORE
Queue unifies CRM and ERP capabilities and breaks down data silos with MS Dynamics 365—modern, intelligent cloud applications
Microsoft Dynamics 365: Moving Business Forward
LEARN MORE
Microsoft Azure: Your Vision, Your Cloud
Queue helps you to build and deploy applications and services with Microsoft Azure, the only consistent hybrid cloud on the market.
LEARN MORE
Microsoft Dynamics ERP
Queue moves your business forward with cutting-edge upgrades to legacy Microsoft ERP solutions that future-proof your operations.
LEARN MORE
CRM and ERP capabilities break down data silos with modern, intelligent cloud applications.
Microsoft Dynamics supports requirements and processes for industries such as Healthcare.
Turn your ideas into solutions using a trusted cloud designed for you. Azure. Cloud for all.
Queue Associates – Microsoft Dynamics Gold Partner China HK with Three Decades of Experience
Queue Associates Worldwide China HK Limited is one of the most highly recognised Microsoft Gold Certified Partners in Greater China, Hong Kong and the Asia Pacific (APAC) region, known for thirty-plus years of experience with Microsoft ERP, Microsoft CRM and other Microsoft solutions.
Based in Causeway Bay, Hong Kong, we offer, as a Microsoft Dynamics Gold China HK Partner, best-in-class capabilities within multiple Microsoft solution areas, now centred in the Microsoft Dynamics 365 suite, Microsoft Azure Cloud, Microsoft 365 and all Microsoft productivity tools.
Microsoft China HK Capabilities
Queue Associates Worldwide China HK Limited has made is easier than ever to do business in China and the APAC region with Microsoft Dynamics, with the distinct advantage and capability to handle VAT and Global Projects. Our team comprises business and technology specialists that are comprehensively versed in business transformation for organisations of any size and reach.
We support initiatives surrounding Microsoft Dynamics 365 Business and Enterprise Editions, Business Central, Sales, Customer Service, Field Service, Human Resources, Finance, Supply Chain Management, Commerce, Project Service Automation, Marketing, Artificial Intelligence (AI) and Mixed Reality.
Queue Associates Worldwide China HK Limited stands ready to guide and support all Chinese and APAC-region Financial Services (Banking and Capital Markets), Fashion and Apparel, Healthcare, Manufacturing, Retail, Professional Services, Government Contractors and Distribution organisations.
WATCH THE VIDEO
Introducing Microsoft Dynamics 365 Business Central
Years in Business in Asia
Click the link below to know more @goldstein_jeff https://t.co/S4wgH0b3Jn
0
0
"@Microsoft is releasing its @Windows 10 Oct. 2020 Update to over 1 BIL users today..." making "interesting tweaks, incl. a refreshed Start menu, some Alt Tab changes &the bundling of the new Chromium-powered @MicrosoftEdge" @verge https://t.co/5JSz3CTQpl #微软中国 @QueueChina
0
0
"Microsoft says it's taking the next giant leap in #cloudcomputing... The partnership w/@SpaceX is just one of the big revelations in today's unveiling of @Microsoft's @Azure #Space cloud computing platform." @geekwire https://t.co/7jW5vvW7hl

@MicrosoftAPAC #微软中国 @QueueChina
0
0
"in 2021, @IDC expects to see a 1.9% growth rate for" IT services & #Cloud. "based... strong bookings; in Q2, plus a perception that companies have been more accepting on making digital tech shifts..." @RedmondIT https://t.co/XXId3ZIboW

@MicrosoftAPAC #微软中国 @QueueChina
0
0
Interview: "Chad Niemuth, VP, Global IT – Marketing/Sales, to learn more about @GruppoCampari's digital journey &how they're getting the most value from @Microsoft's #customerdata platform" @MSFTDynamics365 https://t.co/fW56JE0GLu

#MSPartner @MicrosoftAPAC #微软中国 @QueueChina
0
1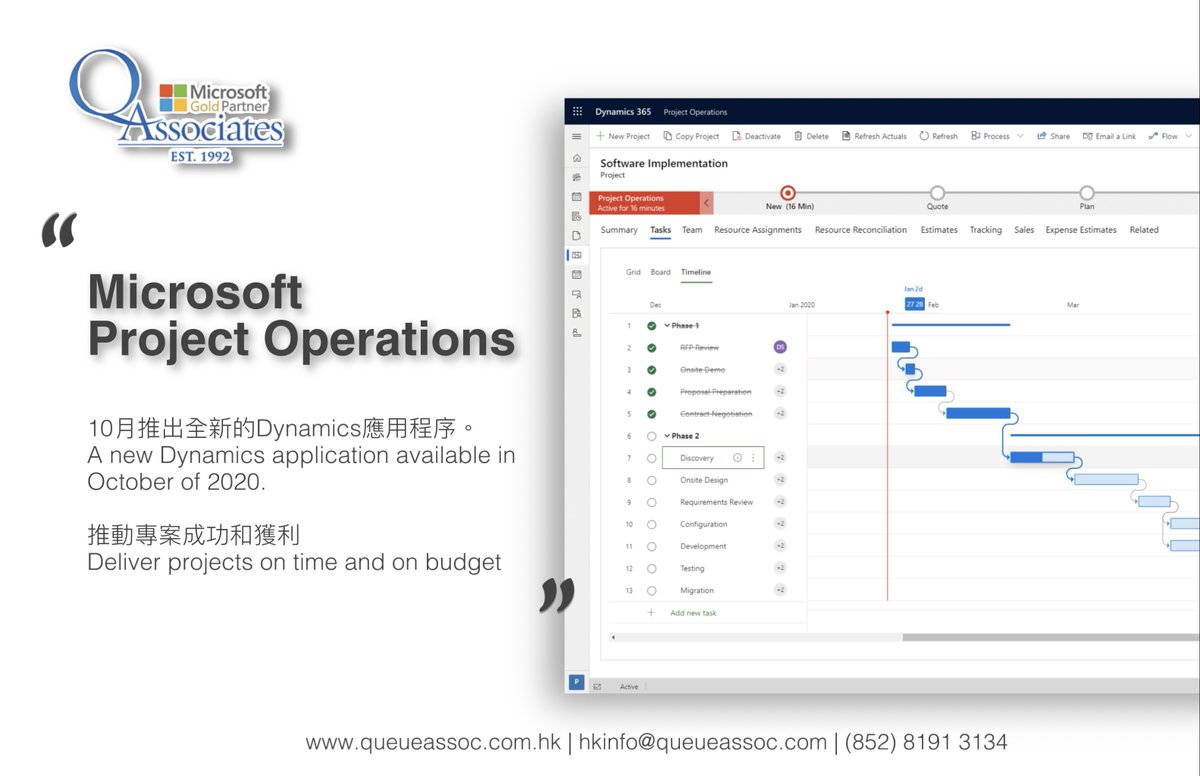 Typhoon was gone but @Microsoft Project Operations is here!

Dynamics 365 #ProjectOperations - helps you manage your projects with planning, time and expense management as well as invoicing.

Questions about pricing? Email us at hkinfo@queueassoc.com

@QueueChina @MicrosoftAPAC https://t.co/xFKRt2zHh7
3
6
"@Microsoft and a team of companies and law enforcement groups have disabled — at least temporarily — one of the world's largest hacking operations..." @nytimes https://t.co/TzAOccorHW

#USElection #MSPartner #International @MicrosoftAPAC #微软中国 @QueueChina
0
1
This whitepaper outlines useful considerations for planning, deploying, and managing your @Microsoft #PowerApps strategy. Learn how to unleash growth while maintaining governance and protecting data. https://t.co/LFvWjJc9V0
0
1
Queue Associates Worldwide China HK Limited, a Microsoft Gold Certified Partner, is a full-service consulting firm, focused on providing Microsoft-based solutions to various sized Greater China, Hong Kong, and Asia-Pacific Region (APAC)-based organisations. These solutions include Accounting and Finance, Project Accounting, Financial Reporting, Enterprise Resource Planning (ERP) and Customer Relationship Management (CRM) systems.